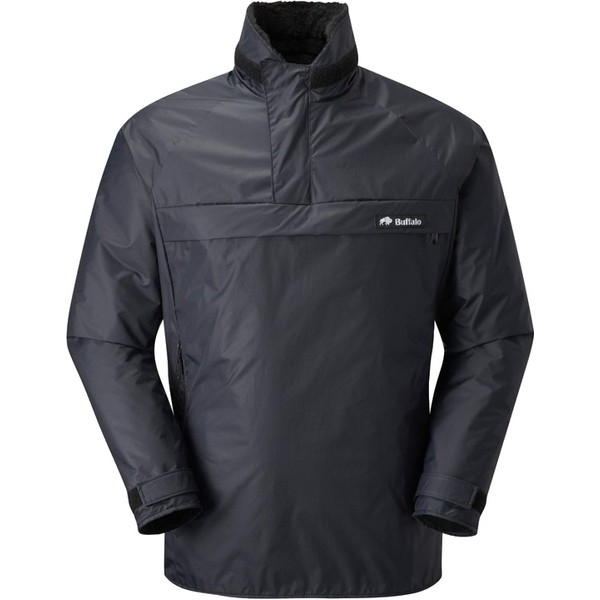 Time for a review... The Buffalo Special 6 Shirt, an insulated, waterproof and windproof jacket loved by the military and outdoor professionals all over the world.
Weighing in at 675g, this jacket packs a huge amount of features: Pertex 6 shell, large front map pocket, extra long cut on the back to allow for rain run-off, handwarmer pocket and 8 ventilation controls including 2 way side zips. Available in black, green and red in 8 different sizes.
Love this label, Sheffield rocks :)
I've been getting into the woods more and more over the course of 2014, I've got plenty of technical jackets but when it comes to bushcraft and playing in the trees you need something a little tougher. I saw a Buffalo jacket a couple of years ago on a course and it's been in the back of my mind ever since, designed for military and police users, I knew a jacket like that would be able to handle a bit of Devon woodland. A rainy summer has allowed me to put the Buffalo through some tests and I'm pleased to say it's performed very well!
Dry after 30 minutes, not bad for a jacket with plenty of exposed furry goodness.
This jacket has been thought through, plenty of features help make it a go to jacket for cold and wet conditions. For me, it was far too warm to be worn throughout a day like a technical mountain jacket but when conditions worsened it was a godsend, the insulation and liner immediately improve body temperature and the Pertex shell keeps the rain off.
Plenty of liner and insulation right up the wrist.
Soft liner helps with comfort and warmth.
Walking through the woods with this jacket on is like wearing body armour, the shell feels solid enough to handle scrapes and bumps and rain beads very well. The longer cut at the back was appreciated, rain normally works it's way down my overtrousers but the lip meant it continued down to the floor.
Beading on the sleeve.
The large front pocket is handy for phones, keys and wallet too. It kept most of the rain out but after a while it developed that damp feel. Not a big issue but a liner included in the pocket may have kept it 100% dry.
Large map pocket with zip flap.
After some time in the rain my hands were beginning to cool down, a perfect opportunity to test a pocket designed to warm up hands! Very comfy pocket with the same liner in half of it, unfortunately the other half has the reverse side of the internal liner, not too uncomfortable but having the liner all the way round would increase that pocket's comfort and warmth. My hands were warmed up quickly, the insulation is warm but when your heart's pumping this jacket really kicks out some heat, I struggled to keep cool even with the side zips fully open.
Reverse of the liner in the handwarmer pocket.
Side ventilation.
I've had a few cold nights this summer, with the temperature dropping to near 0°. I've had to keep the zips open partially to stop from overheating, this jacket has got some serious oomph when it comes to keeping you warm.. Temperatures in Devon rarely go below freezing so it was hard to see how much cold this jacket could handle.
Velcro tab over the side ventilation, helps keep the wind and rain out.
Overall I've been really impressed with the Buffalo Special 6 Shirt, it's kept me ferociously warm, very dry and cosy too. There's one or two bits which could do with a small change but that's just me nitpicking, I'm really glad this jacket is made in Sheffield with such a high standard of workmanship - no stereotypical British manufacturing here, just a solid jacket. I look forward to many more years of wearing the Buffalo in the woods.
Tough outer shell which beads water and stops wind brilliantly.

Soft and cosy liner which helps this jacket double up as a pillow.

Immediate warmth when you wear the jacket, no waiting for it to warm up.

Long cut at the back to help the rain run off.

Great build quality and workmanship.

Made in Sheffield, that's got to be worth a few review points!
Reverse of the liner within the handwarmer pocket is a little bit annoying.

No hood, this didn't effect me much but something to remember.

Not a 100% waterproof front pocket.
Thanks for reading, I hope you enjoyed the review :)
Thanks again to OutdoorKit for providing the Buffalo Special 6 Shirt for review. Please check out their social media pages... Facebook

and

Twitter

.